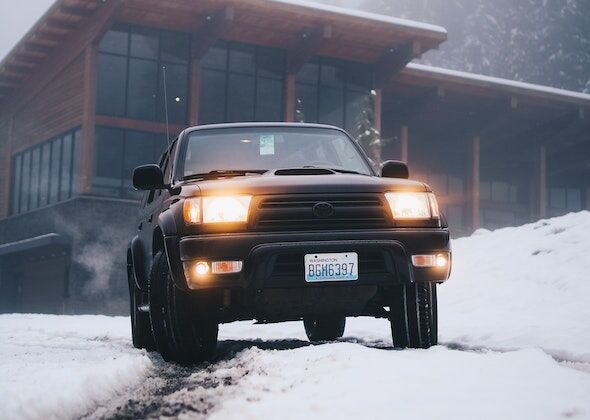 How to Install Car LED headlight Bulbs – A Complete Manual Guide
LED headlight bulbs are becoming rapidly famous for their great usability and easy installation in the car headlight housing. With this being said, to install car LED headlight bulbs some car owners prefer to change LED headlight uninstallation by themselves and there is nothing difficult in it. However, there are further steps and points to keep in consideration as you continue to install the car LED headlights in your car.
In this article, we are going to look at the main points for installing LED headlight bulbs in your car. Without any further ado, let's deep dive into the steps for car headlight installation.
Supplies For LED Headlight Bulb Conversions or Installation
There are some supplies that you will need for installing car LED headlight bulbs. They are as follows:
An LED conversion kit
A screwdriver
Wire crimpers
Wire cutters
If you want to buy a top-notch LED headlight conversion kit for your car, check out our LED headlight Conversion Kits.
Know about the Tool and Other Specifications for Installing LED headlight bulbs
To install car LED headlight bulbs, you first need to check th LED car light housing. There are several LED highlights and every headlight might have a different light housing. There are multiple light housing models such as H7, H4, etc. and different vehicles take different headlight housing. If you want to know which size of car headlight housing and type of LED headlight bulb will fit into your car, SKLED TECH would help you out.
Once you have understood the LED headlight housing then it will become a lot easier for you to install the LED headlights into your car. All you need would be the tools and the manual for installing headlight bulbs in your car.
Selecting the LED headlight beam
There are two types of LED headlight bulbs i.e., single beam headlight and the other one is diode headlight beam. If you want a high beam and low beam LED headlight beam, then a diode LED bulb would be the right choice.
Selecting the headlight beam pattern is important as it is the deciding factor in choosing one of the best headlights. In case you want to read more about LED headlight beam patterns, read our previous article on the beam pattern of the headlight to know more.
Prepare for LED headlight bulb Installation
Before you start to install car LED headlight bulbs, you should first mark the light beam pattern of the LED headlight bulbs so that you can set the new ones at the same angle. It is recommended to park your vehicle at about 20 feet distance from the garage or at any parking space where the distance between the car and the point of reference for making the light beam pattern is 20 feet.
Open your headlights, get a market or tape and find the center of focus of the LED beam pattern of the headlight. Once you have marked the points of beam patterns, the next step is to start the uninstallation of the already (previously) installed light housing system.
Pro tip: Securing the ballasts and wiring is important as you might need them again. We suggest you take two-sided tapes for securing the wiring and ballasts.
Ballasts and Wiring
As we have mentioned before, here is to bring more attention to the internal wiring of ballasts and wiring. Talking about ballast, it has two ends. One end of the ballast is inserted into the original wiring harness whereas the second end of the ballast wiring will be attached with the installation of newly LED headlight bulbs for your car.
Ballasts are exposed to moisture and extreme weather aligns with vibration. Therefore, to keep them protected, you can place them at the back of the headlight housing. Please note that this will be the last point of installing LED headlight bulbs.
Removal of Old Headlight Bulbs
To uninstall, the old led headlight bulbs, pop out the hood of the car light housing. Make sure that you carry out this process gently as you do not want to damage the hood and headlights inside. At the back of the headlight, there is a wiring connector that is attached to it. You can easily remove it with a flat screwdriver.
Now turn the headlight bulb connector very carefully to unplug it. If there is a metal base on the headlight assembly, that is fastened by a tension wired then all you have to do is to press down on the end of the wire to unlock it. after you have done it, just slide down the headlight out of the car kit housing.
Pro tip: before you start to install car LED headlight bulbs, make sure that you are wearing gloves and do LED headlights to get no fingerprints on them.
Connect the driver
For installing new LED headlight bulbs for your car, connect the driver once you have reinstalled the old headlight bulbs.
In the driver, there will be two (2) ends. Connect one of the connectors of the diver to the bulb and the other end of the driver with the wiring of your car.
Once it has been done, make sure that the placement of both sides is correct and workable.
Secure the Driver of the LED Headlight bulb
For securing the driver from any mishap or damage, you will need to place the driver on a gloat location toward the inner fender.
The second step is to mark the mounting holes with a sharpie, drill the pilot hole, and finally secure them with metal screws. There is another alternative for this process is using self-tapping screws or two-sided tapes for better safety.
If you do not want to use the driller for your car, then two-sided tapes would be the right choice. However, we recommend cleaning the surface with alcohol first and letting it dry. Then apply the tape.
Prop tip" do not use the zip ties as they lose when they vibrate and can lead to damage to LED headlight bulbs.
Time to Test Your Newly Installed LED Headlight Bulbs
Now, that you have put all the screws, ballasts, wiring, and LED headlight bulbs in their place, it's time to switch the car on.
Start the engine of the car and test the headlights to see if the brightness and lighting direction of LED headlight bulbs is fine.
To check the headlight beam pattern, make sure that your car is parked at the distance where it was when you installed the headlight bulbs. Check the marking point of your LED headlight beam pattern for the old headlights and see if the beam pattern of the new headlights is in the same direction and point.
Also, check the following points after connecting and installing the new LED headlight bulbs:
LED headlight beam pattern
Even light distribution
No glaring or dark spots
The angle of the headlight beam pattern
If you find anything unsettling, reconnect it to make sure it works fine for the next time.
Testing the LED headlight Bulbs To Install LED Car Headlight Bulbs
If you find any issue with your installed LED headlight bulbs or you see your car's headlight flickering then you need to add resistors (CAN bus) to your headlights for proper functioning.
LED and CANBUS are usually light sensitive so you might need to flip yours agrees 180 degrees round to make them work properly.
In order to adjust the correct alignment of your LED lights after letting them cool for 5 minutes so the LED element on the flat sides faces 3 and 9 o clocks (right and left) – as we told in our previous blog for headlight beam pattern.
Do You Need A Conversion Kit For LED Headlights?
Yes, you do need a conversion kit for the LED headlights as the kit contains all the required supplies that you will require in the process of installing LED headlight bulbs.
At SKLED TECH, there is a huge collection of Conversion Kit for LED headlights. To explore more about the conversion kits, we have given a detailed description of the LED headlight bulbs conversion kit.
As we were talking about the LED headlight bulb conversion kits, here is one for you.
The D1S D3S D8S LED Headlight Bulb Conversion Kit is manufactured with 3570 LED chips that make it a perfect conversion kit. The LED chips produce an even LED headlight beam pattern.
It comes with 70watt per pair of bulbs which makes it more illuminating and useful for LED headlight bulbs. The main features will give you the benefit of a wide beam pattern and coverage, cleat sight for longer lighting distances with no black spots and glaring.
We make it easy for you to install with plug and play, if you do not want screws, ballasts, and other drilling equipment then buy our LED headlight conversion kits and make the game easier for you.
The LED headlight conversion kit has a high-quality heat dissipation design that ensures the longevity of the LED headlight bulbs. It comes with a pre-built turbo fan to keep the LED headlight bulbs cool in extreme weather conditions.
Our LED headlight conversion kits contain IP65 waterproof levels, to ensure the absolute safety of the driver on rainy days, the working environment is around -40°C~+110°C, and no matter what the weather conditions are – they work at maximum.
Have a look at some of the pictures below that will help you distinguish between local and SKLED TECH's LED headlight conversion kits.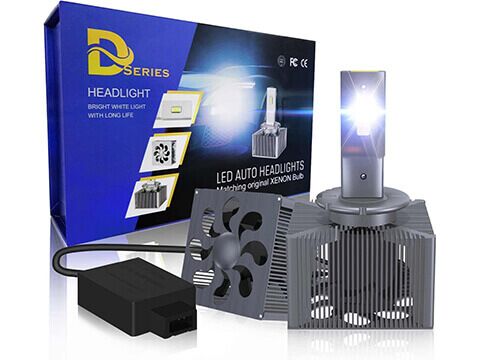 Why Would You Need To Install A LED Headlight Bulb?
Installing a LED headlight bulb gets necessary for different reasons and it is better to do it before it gets too late. Here are a few of the reasons for installing LED headlight bulbs for your car. Let's get to know them.
Completed Lifespan
When headlight bulbs for cars complete their life span they tend to perform a bit low and you can see it. If your car headlight bulb has completed its lifespan and not producing the right light then you need to change the headlight bulbs and reinstall LED headlight bulbs.
Glaring Or Dark Spots In LED Headlight Bulbs
Glaring and dark spots of headlight bulbs can be dangerous for your car. It shows that light distribution is not even from either form the sides or some spot from the headlight bulb. To fix this, installing new headlight LED bulbs is the right thing to do. Save yourself from hazardous accidents ad poor lighting to have a safe driving experience at night.
Oxidation
Oxidation is another important factor to change your car's headlight. When oxidation occurs, the plastic gets yellow due to extreme weather conditions and the process of oxidation. With pale or yellowish lights, you cannot see the road ahead of you. When lights get yellow, the whole assembly of the LED headlight bulbs has to be changed. For this, getting LED headlight conversion kits is the solution.
LED headlight conversion kits come with white clearer light and complete supplies to install your LED headlight bulbs within a short period without any obstacle.
Request a Free Quote now at SKLED TECH to Install Car LED headlight Bulbs
If you plan to install the LED headlight bulb for your car, then getting the right LED headlight bulb and car housing is the right thing to do.
At SKLED TECH you will get the required supplies for installation, an LED headlight bulb, and an LED headlight conversion kit that fits your car. Follow this guide to install car LED headlight bulbs seamlessly.
Request a free quote now for the super bright LED headlight bulbs for your car.